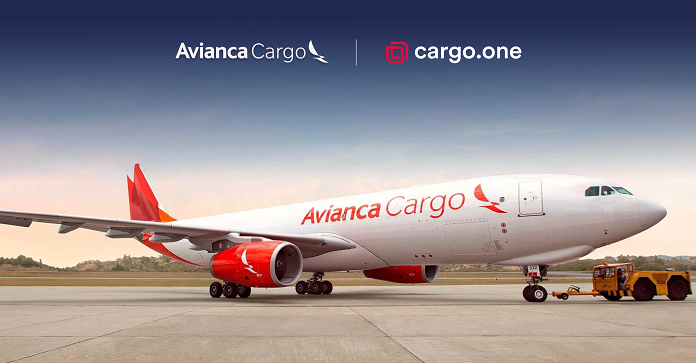 The partnership enables the airline to broaden its digital footprint and target thousands of freight forwarders using cargo.one worldwide
cargo.one is the first choice for national carriers to drive digitalization – guaranteeing their customers the best digital experiences
cargo.one has announced a global partnership that brings Avianca Cargo, the Colombian national carrier's cargo division, onto the leading marketplace for digital air cargo bookings. cargo.one will comprise a key component of Avianca Cargo's multi-channel digital distribution, and support the airline in its ambitious digital transformation and growth plans.
Avianca Cargo offers 42 destinations in 23 countries, as well as impressive domestic connectivity, leveraging a fleet of 5 modern freighters in addition to Avianca's large passenger fleet. The airline has hubs in San Salvador (El Salvador), Lima (Perú) and Bogotá (Colombia) as well as operation centres in Miami (USA), Medellín (Colombia), Quito (Ecuador) and Mexico City (Mexico). For many freight forwarders, Avianca Cargo offers important and attractive capacities between Europe and the Americas.
Within the coming weeks, more freight forwarders will be able to book Avianca Cargo capacities digitally, benefiting from the most high-quality, user-friendly marketplace experience on cargo.one. By offering its capacities on cargo.one, the airline will promote its range of air cargo products to a community of 12,000+ freight forwarders in all corners of the world.
"In Avianca Cargo, we are transforming our business through digitalization. We are committed to offering our customers a reliable service with more options every day. Partnering with the top portals of the industry will allow us to continue strengthening our position as one of the leader carriers in the region and provide users with the opportunity to find rates and available capacity in real-time, book our products and receive an immediate booking confirmation", comments Gabriel Oliva, CEO of Avianca Cargo.
Moritz Claussen, Founder & Co-CEO of cargo.one, adds, "Following extensive partnership experience with the world's leading carriers, we are delighted to expand Avianca Cargo's digital footprint to thousands more forwarders in all corners of the world. As a digital leader, cargo.one team will support Avianca Cargo to drive customer centricity, and navigate the technological and organizational steps needed to gain maximum advantage from their digital distribution."
In addition to its global market position, cargo.one has strong tactical experience supporting airlines within the Latin American market. The marketplace has become the go-to choice for national carriers seeking to accelerate digital sales and guarantee the best customer experiences.
With its integration, Avianca Cargo also benefits from cargo.one's a long-standing partnership with IBS Software, allowing the airline seamless and low-maintenance back-end connectivity with the marketplace.
Related posts
A Message from the CEO
Ever since the establishment, we have endeavored to contribute to the prosperity of our clients and society from a global perspective. To add further value to our services, we strive to provide services tailored to the individual needs of our clients, both in Pakistan and overseas, by using know-how which we have acquired through our experience and achievements.
Learn more